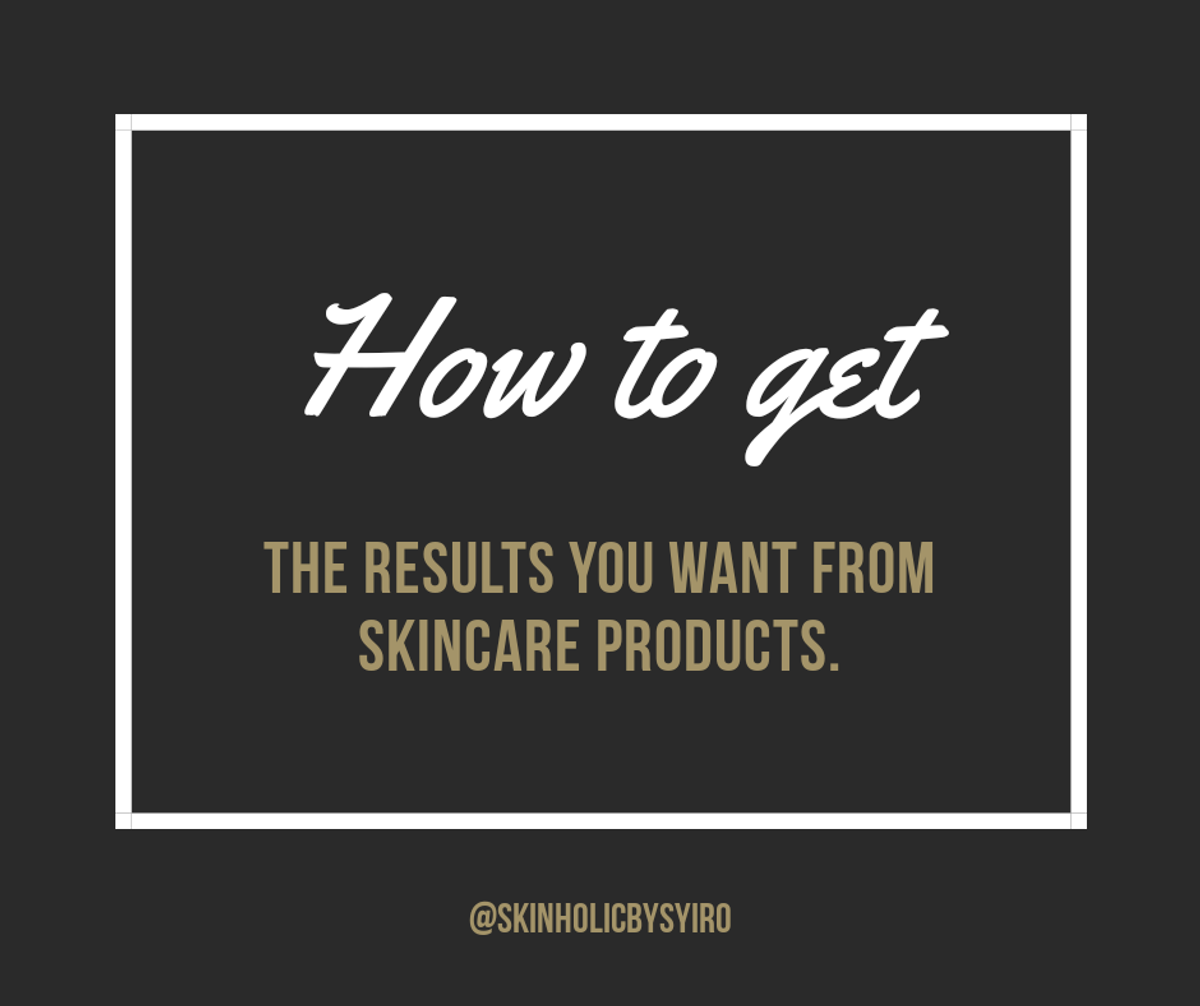 This is a guideline untuk dapat kan result yang korang nak from your skincare products. Well, it's all about realistic expectation!

1. Ignore product claims yang macam misleading.
Dalam dunia advertising, memang kena guna ayat yang bombastic sebab itu adalah cara untuk melakukan produk jualan. Sesetengah produk tu memang bagus tapi kadang claims dia tu pulak macam misleading. Contoh macam foundation yang boleh jadi serum, moisturizer, cc cream, all-in-one.

2. Stop looking for one miracle ingredient or one miracle product.
There's no such thing as pakai 1 produk atau 1 bahan je boleh selesai semua masalah kulit. Skincaring ni berkaitan dengan routine. So, korang bukan setakat kena cari produk yang sesuai, malah routine yang sesuai jugak.

3. Buat skincare routine yang bersesuaian dengan your skin preference & skin concern.
Ada setengah orang buat basic je dah cukup tapi ada jugak yang perlukan routine yang advance baru lah kulit dia happy. Tugas korang adalah untuk pastikan routine yang camne yang sesuai dengan kulit korang. Kalau ada masalah acne, better focus pada masalah tu dulu sebelum kalut nak cari produk yang untuk memutihkan. Set your priority.

4. Be consistent.
Skincaring is a long term commitment. Kalau nak dapat ultimate result, kena rajin buat am & pm routine setiap hari. Tiada alasan.

5. Don't skip exfoliation & sunscreen.
Kalau korang nak kulit yang sihat dan awet muda, dua perkara ni penting ye. Kalau tak exfoliate, sel kulit mati akan berkumpul di permukaan kulit dan menghalang produk untuk berfungsi secara maksimum. Kalau tak pakai sunscreen pulak, kulit korang terdedah pada uv damage yang menyebabkan premature aging dan pigmentation.

6. Don't expect instant results.
Semua benda kena ambil masa termasuk lah proses penghasilan sel kulit baru. Ada setengah produk memang boleh rasa effect dia serta-merta tapi ia masih mengambil masa untuk produk tu betul-betul bagi perubahan pada kulit korang. That's why consistency tu penting!

7. Elakkan produk yang ada harsh ingredients or boleh sensitized kan kulit.
Gentle & non-irritating product adalah kunci untuk melindungi skin barrier korang. Kadang negative effect dari harsh product ni korang tak nampak serta-merta tapi lama-kelamaan akan jadi ketara. Tahu-tahu je kulit korang dah jadi sensitized.

8. Always alert with your personal sensitivity to ingredients.
Sentiasa perhatikan reaksi kulit korang setiap kali mencuba produk baru. Ambil tahu apa ingredients di dalam setiap produk tersebut dan alert bahan yang kulit korang suka dan tak suka/tak boleh tolerate. Even produk yang well-formulated pun, kalau kulit korang tak ngam, memang akan bagi negative effect jugak.